The Empty Feeling of Early Season Rematches: A Review of Mavs-Warriors II
The sequel never lives up to the original, does it? Except for Rocky II. That was the best in the series. Everyone tunes into the sequel, because they have all those wonderful memories of the original. There is also a little part of you that enjoys the familiarity; that is part of the reason I still enjoy Major League II (but not III) – it's nice to be back with your friends. This game was nice, but just not the same. The lack of Stephen Jackson was kind of like the loss of Wesley Snipes. So, my mind wandered a little bit. After the wandering, I will get back to the game.
While I was watching the under-card, Bulls vs. Pistons, tonight I was switching between TNT and NBC. The Office is sweet relief for a desk jockey like me. Before that, though, I was watching 30 Rock and realized that the Suns were not playing. I don't think it is a coincidence that Marcus Banks and Tracey Morgan are not on TV at the same time.
You be the judge: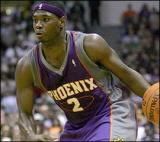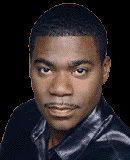 The question is whether Tracey was playing the role of "Marcus Clanks" last year or he has been the guy draining the 3s this season for the Suns. I will never bad-mouth Bill Simmons because when he rated all the players in the league last year, Banks won his LVP (Least Valuable Player) Award for getting such a nice contract and being such a huge bust. It was so very accurate; I cannot even come up with a fitting cliché. Once Steve Kerr figures out whether Morgan was here last year or is here this year, the Suns' bench will be in good shape.
As for the under-card, I want to know who told Ben Wallace he could shoot. I know the knock on the Bulls is that they do not have a go-to post scorer, but who decided it should be Wallace? I think Skiles is smarter than that, so I am left to conclude that Wallace feels bad that he's not worth that exorbitant contract and took it upon himself to try to earn his money. Ben, please don't help.
We go into the main event with big questions on each side. Are the so Mavs scarred and beaten that they'll wave the French flag or will Dirk toughen up and lead the Mavs back? Were the Warriors a fluke and who will write a letter of apology to the fans if they miss the playoffs yet again?
I knew the Warriors were going to get off to a slow start this season when they cut Pat Burke. The first Irish-born NBA player is a locker-room and fan-favorite. If you have not done so yet, go look up his skits on YouTube. The one in which he runs for Congress (because he was "just not that not busy") was played during a time-out in Phoenix last year and Coach D'Antoni had to stop, watch and laugh just like everyone else in the gym. The guy got to go to camp in Hawaii with the Warriors, though. So he's got that going for him.
On to the fight:
For a moment, forget this was only a regular season game a two weeks into the season. It has little or nothing to do with May and June, but you have to think this would (or should) mean something to both teams. Dallas did exactly what they did for most of last season which was really nice offensive teamwork and a little bit of defense. Johnson's doggedness shows in the way they play. Johnson and his Mavs just keep coming at you. It was not very exciting, but by the end of the night, they had scored 120 points (which, coincidentally, is right on pace for Golden State's defense)
Dirk and the Mavs never do anything that exciting but the numbers are just there. He had 22 and 11 and threw in a block for good measure. There are a lot of parts about Dirk's game that I like, but there is that jealous, hateful part of me. The main reason that I hate Dirk Nowitzki is because he's a 7-footer that shoots fade-away three-pointers from behind his head. This is, of course, a skill that every baller would love to have. However, the estrogen hormones that I use to mask the steroids and HGH give me these insane bouts of jealousy in a manner very similar to woman hating other women simply because that other woman looks good or has a nice handbag.
The Warriors and Baron Davis are much more fun to watch. They are the NBA's equivalent of NASCAR – everyone is there watching things moving really fast while anxiously awaiting the crash. Skinny Baron Davis, though, just doesn't look right. I suppose taking off the weight is good for his knees and may let him play the majority of the season for the first time in years, but it just does not look right.
Avery's alleged emphasis on defense has done little to improve the squad. They still gave up 115 points to a team without J-Rich and Stephen Jackson. When Avery's team plays D, he has the same look on his face that he used to get when he was guarding Kevin Johnson – it's that look of abject fear right after KJ's crossover and right before KJ blew past him.
The beginning of the season is always tough to gauge. Was Dallas just a little bit off or is this a harbinger of bad things to come? I don't know, but it was fun to watch in the meantime.
The end, though, was pretty antic-climatic. Neither star stepped up. Dirk missed a three that would have put a nail in the Warriors' coffin, and then Davis missed a wide-open three to tie it up. Fat Baron probably would have made that shot and Dallas would have been in trouble.