No Suspension for Brendan Haywood
No suspension for Brendan Haywood
Did you guys ever play that game as a kid where you stand a foot or two away from your opponent and push each other's hands (or fake it, you rogue!) until one of you falls off balance and moves your feet? Ori and I played it once… just a couple years ago. It gets worse: The winner got a hug.
Brendan Haywood's flagrant on LeBron reminded me a lot of that game. Haywood is much stronger than Ori and I put together, but I'm willing to accept that the intent wasn't malicious. By all accounts, Haywood is a nice guy. He's never played the role of 6 fouls and a big body, only averaging more than 3 per game once. By comparison, Z has averaged .8 more in 6 extra minutes over the course of his career, and Z is "soft".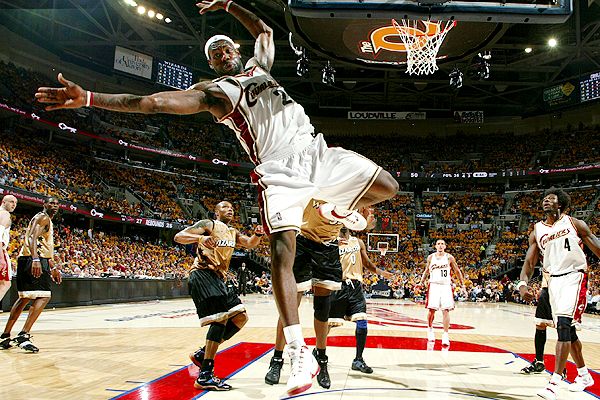 image: ESPN.com
I can see where Haywood would have been reamed for not hacking Lebron when Eddie Jordan's game plan is so obvious and as I watch over and over again, I can start to convince myself that it was just a laborious reaction and awkward lunge towards the ball by a slow dinosaur.
Still, the foul was clearly a flagrant 2 – excessive and unnecessary; not a basketball move. If the Wizards tactics continue and Haywood finds himself in the same position, I expect the penalty to be that much more harsh, but for now I can accept no suspension.
Regardless, I'm not sure his suspension would have doomed the Wizards. I expect the Wiz to change their style up a bit going home. Clearly they won't win grinding it out with us, and with the energy and comfort of their home court, I imagine they'll push the ball early and often. Yeah, Haywood can beat Z down the floor, but especially if Mike Brown is reactionary and keeps Z's playing time down, Eddie Jordan will be better served with Andrey Blatche on the floor. If the Cavs hit their shots, giving themselves time to get set on defense, it won't matter who is in there.
Go Cavs!

[top image: http://www.flickr.com/photos/[email protected]/]